The 20 Most Popular LinkedIn Learning Courses of the Year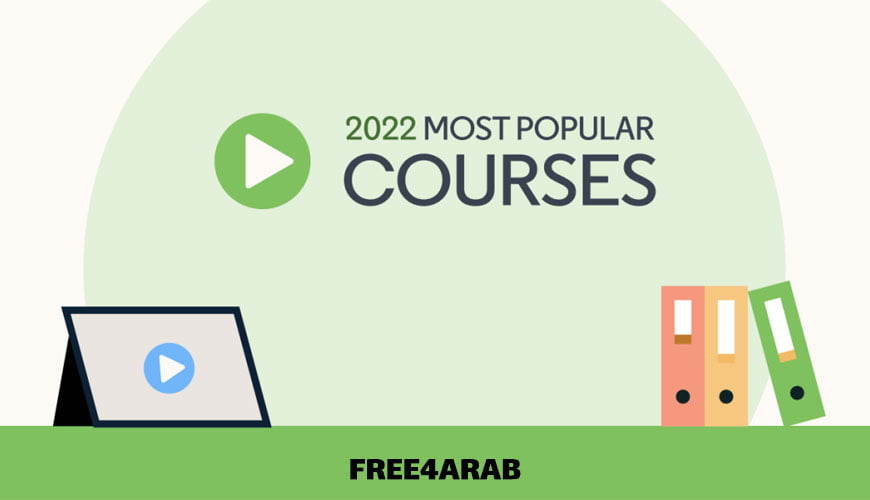 The 2022 Most Popular LinkedIn Learning Courses
Here are the most popular courses on LinkedIn Learning this year. Dive into any of this course content for free for until August 31, 2022.
What you'll learn: It's easier to reach a goal when you know your team is rowing in the same direction. The popular Objective and Key Results (OKRs) methodology of goal setting enables you and your team to work together to set clear, reachable goals. Instructor Jessie Withers will guide you through understanding the power of strategic goals through how to set, manage, and measure OKRs.
What you'll learn: We have a lot of data at our fingertips these days. Being spreadsheet savvy can save you time and breathe new life into your data. Excel expert Dennis Taylor leads you through learning basic Excel skills such as organizing data and performing calculations with simple functions, then introduces intermediate skills like building charts, PivotTables, and more.
What you'll learn: Many of us are seeing new faces around the in-person or virtual workplace. Maybe you're a new face on the team! Dorie Clark's course will help you navigate the communication side of these new interpersonal relationships. She offers advice and techniques for dealing with complex and nuanced situations like interruptions, receiving critical feedback, and communicating across cultures.
What you'll learn: You've already taken the first step toward a growth mindset by exploring these courses. Gemma Leigh Roberts' course will guide you through the next steps as she shares true examples of growth-mindset success, backed by research in the fields of performance and psychology. She ties it all together with real-world advice that you can put to use as you adopt a growth mindset.
What you'll learn: We all have projects to manage – from our personal to-do lists to large-scale corporate projects. Regardless of the scope of work, Bonnie Biafore will teach you the fundamentals of project management such as establishing clear project goals and objectives, meeting deadlines, and closing out projects. Sprinkled throughout the course are tips on how to communicate effectively with your project team.
What you'll learn: Forget the old saying about curiosity and cats. When applied strategically, curiosity can guide that cat to the C-suite. It's all in how you use your curiosity and what questions you ask to get the information you need. In this course, Joshua Miller explains the value of curiosity and the role critical thinking plays in asking the right questions that open doors and opportunities. He also takes a look at social media's role in asking questions and explores how to effectively answer thought-provoking questions.
What you'll learn: Clear expectations and unified goals help teams collaborate more effectively. Join corporate trainer and author Dana Brownlee as she shares ways to keep teams in sync by exploring team members' communication modes, clarifying team and individual purposes, and creating opportunities for collaborative work.
What you'll learn: The way we communicate and the choices we make in the workplace are guided by an unconscious bias that, when left unchecked, can contribute to negative workplace culture. Diversity expert Stacey Gordon will help you identify some of the most common forms of unconscious bias and offer strategies for effectively addressing these biases within yourself and your organization.
What you'll learn: If you want to pick up one programming language, Python is it! This versatile, easy-to-learn, object-oriented language is used across many industries and in applications such as software engineering, AI, machine learning, and mobile app development. Developer Joe Marini unpacks basic Python syntax and shares an example of how to construct and run a simple Python program. You will also learn to work with dates and times, read and write files, and retrieve and parse HTML, JSON, and XML data from the web.
What you'll learn: Even the most gifted communicators can struggle with confidence, and confident individuals can find clear communication difficult. In this course, Jeff Ansell guides you through developing and honing this vital business skill. Topics covered include: how to organize your thoughts, how to use body language to better express ideas, and how to overcome anxiety.
What you'll learn: Adapted from the podcast How to Be Awesome at Your Job, Pete Mockaitis is joined by professional speaker Diane DiResta to discuss tips and tricks for crafting impactful and informative presentations around what's important to the audience. The conversation touches on strategies such as shifting your focus away from yourself to gain confidence, using body language and tone to deliver consistent messaging, and crafting a plan to recover from a worst-case scenario incident.
What you'll learn: The more data we handle, the greater our risk of security breaches. In this course, application security expert Caroline Wong provides an overview of the 2021 Open Web Application Security Project (OWASP) Top 10 security threats, offering insights and information about the prevalence and impact of each threat. This course is informative not only for data security experts, but for any decision makers whose choices impact the resources of an organization's data security department.
What you'll learn: Data is only as valuable as the insights it offers. Put your data to work with this course on how to use Power BI, the business analytics tools that allow you to create and share impactful visualizations with others in your organization. In this course, Gini von Courter explains how to import data, create visualizations, and arrange those visualizations into reports. You will also learn how to use Power BI Mobile and how to use the data modeling capabilities in Power BI Desktop.
What you'll learn: People may joke about 4D chess, but having the ability to think strategically in both space and time puts you at an advantage that will help you move forward – and up – in your career. In this course, Dorie Clark will teach you how to embrace a strategic mindset, how learning from the past can shape your vision of the future, how to be detailed in your strategic thinking, and how to share this skill with your team.
What you'll learn: Database wrangling is a valuable skill for anyone working in tech, and for that you need to know the most common database language: SQL. Tech advocate and programming expert Bill Weinman teaches the major features of SQL using SQLiteStudio, an intuitive and accessible database management software. You'll learn fundamentals such as creating tables, defining relationships, and manipulating strings, numbers, and dates. Also included in the final chapter is a real-world example of building a simple application using SQL.
What you'll learn: Emotional intelligence is a skill that can–and should!–be learned. Executive coach and organizational psychologist Gemma Leigh Roberts will teach you what emotional intelligence is, why it's important in the workplace, and how to work on honing your own emotional intelligence. Some areas she guides you through include how to become more self-aware about personal triggers and how to align your intentions and your impact so that you can build strong and collaborative relationships.
What you'll learn: Clear communication is essential to career success. In this course, Brenda Bailey-Hughes and Tatiana Kolovou guide you through learning how to communicate more effectively in meetings, email messages, pitches, and presentations. You'll learn about the four building blocks of communication – people, message, context, and listening – and how to apply them in a variety of professional circumstances.
What you'll learn: An agile mindset prepares your team to respond well to whatever comes their way. Doug Rose leads you through the fundamentals of building an agile team. You'll learn about the values and principles covered in the agile manifesto, as well as how to enhance communication with user stories and cross-functional teams. Doug also provides exercises that can help boost your team's agility and productivity.
What you'll learn: Digital marketing is constantly changing. Platforms come and go, trends ebb and flow, and then the next thing comes along. In this course, instructor Brad Batesole gives an overview of the building blocks of online marketing, then guides you through how to define your value proposition, identify your target market, and establish your goals and KPIs.
What you'll learn: Developing the ability to think reflectively and address root-cause issues will make you a better decision maker and a more reliable resource within your organization. Leadership trainer and expert Mike Figliuolo outlines a series of techniques to help you develop your critical thinking skills by learning how to define the problem you're trying to solve. Mike will then teach you a number of critical thinking methodologies that you can employ to better work through problems. He also provides guidance on how to develop this skill across your whole team.