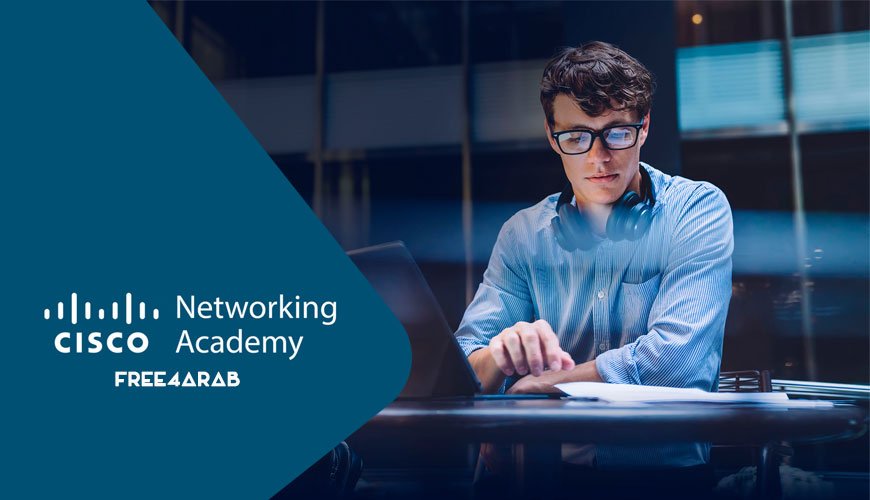 Networking Essentials
Learn basic networking concepts and skills you can put to use right away, no previous networking knowledge needed.
Enhance Your Skillset, Whatever Path You Take
Networking is at the heart of the digital transformation. The network is essential to many business functions today, including business critical data and operations, cybersecurity, and so much more. A wide variety of career paths rely on the network — so it's important to understand what the network can do, how it operates, and how to protect it.
This is a great course for developers, data scientists, cybersecurity specialists, and other professionals looking to broaden their networking domain knowledge. It's also an excellent launching point for students pursuing a wide range of career pathways – from cybersecurity to software development to business and more. A Networking Academy digital badge is available for the instructor-led version of this course. No prerequisites required.
You'll Learn These Core Skills:
Plan and install a home or small business network using wireless technology, then connect it to the Internet.
Develop critical thinking and problem-solving skills using Cisco Packet Tracer.
Practice verifying and troubleshooting network and Internet connectivity.
Recognize and mitigate security threats to a home network.
Introduction to Cybersecurity
With Billions of Devices Now Online, New Threats Pop-up Every Second
Today's interconnected world makes everyone more susceptible to cyber-attacks. Whether you're attracted to the relativity new world of cybersecurity as a professional, or just interested in protecting yourself online and in social media, this introductory course is the answer. It explores cyber trends, threats—along with the broader topic of cybersecurity in a way that will matter to YOU. For instance, you'll learn how to protect your personal privacy online while gaining additional insight on the challenges companies, and governmental and educational institutions face today. No prerequisites required.
You'll Learn These Core Skills:
Learn what cybersecurity is and its potential impact to you.
Understand the most common threats, attacks and vulnerabilities.
Gain insights for how businesses protect their operations from attacks.
Find the latest job trends and why cybersecurity continues to grow.
Cybersecurity Essentials
Learn valuable security principles to defend networks.
Learn the Basics Needed to Fight Cybercrime
A single breach can have huge consequences for a company, hurting the bottom line and causing disruption in the daily lives of millions of people. That is why the demand for security professionals continues to grow. Get onboard—and develop an understanding of cybercrime, security principles, technologies, and procedures used to defend networks. Then decide whether you want to pursue an entry-level networking or security professional role. Recommended if you plan to study for CCNA or CyberOps Associate Certifications. Prerequisite Introduction to Cybersecurity or equivalent knowledge recommended.
You'll Learn These Core Skills:
Understand security controls for networks, servers and applications.
Learn valuable security principals and how to develop compliant policies.
Implement proper procedures for data confidentiality and availability.
Develop critical thinking and problem-solving skills using real equipment and Cisco Packet Tracer.
Introduction to IoT
Discover how the Internet of Things is enabling digital transformations across a variety of industries and can expand career opportunities in the future.
Start Your IoT Journey Here
Invest in learning IoT (Internet of Things) skills and you can transform any business in any industry, from manufacturing to saving endangered species. Imagine 26 billion people, systems, and physical objects connecting and sharing data seamlessly over the internet. This isn't a what-if scenario, it's real-life and it's coming together all around us right now. Learn how IoT is changing the world and the IoT skills you will need to land a well-paying job. No prerequisites required.
You'll Learn These Core Skills:
Learn how the current digital transformation is creating unprecedented economic opportunity.
Understand how the IoT is bridging the gap between operational and information technology systems.
Discover how standard business processes are being transformed.
The security concerns that must be considered when implementing IoT solutions.
Get Connected
Gain essential skills like basic computer skills, such as how to use a computer, connect devices, and access search, email, and social media.
Cover Your Digital Basics
The digital world is upon us both personally and professionally. Having a better understanding of the Internet, computers and social media can be a big help toward acquiring digital skills. And, once you have these skills there are many more possibilities opened to you as far as career advancement. Learn how to use a computer, connect devices and access search, email, and social media. Enjoy course content that is very user-friendly and interactive with lots of illustrations! No previous knowledge is needed for this introductory course.
You'll Learn These Core Skills:
Create accounts for Facebook, LinkedIn and YouTube.
Understand computer networking and how to browse and search the Internet.
Become familiar with Microsoft Windows and how to work with files and folders.
Identify common problems and implement solutions.
NDG Linux Unhatched
Learn basic installation and configuration of Linux software and get introduced to the Linux command line.
The "Start From Scratch" Linux Course
Ever considered a career in Linux? Or, stuck in a dead-end job and exploring options for a career change? NDG Linux Unhatched allows students to wade into the shallow end of Linux, the back-end operating system used by global titans such as Facebook, Google, Microsoft, NASA, Tesla, Amazon and more.
Graduates walk away with a clear understanding of whether Linux is for them or not, without having to commit to more than 8 total hours of self-paced learning. To ensure you don't get stuck, you'll be guided step-by-step through a series of hands-on virtual machine activities. The course aligns well with a portion of the Linux exam objectives found in the LPI Linux Essentials Exam Certification. After this course, we suggest taking either NDG Linux Essentials or NDG Linux I.
You'll Learn These Core Skills:
Basic installation and configuration of Linux software.
Understand the basics of the Linux Command Line Interface (CLI).
Interact with the Linux virtual machine.
Determine if Linux is for you or not.
Introduction to Packet Tracer
Discover and troubleshoot using powerful networking simulation tool.
Hands-On Practice
Enroll, download and start learning valuable tips and best practices for using our innovative, virtual simulation tool, Cisco Packet Tracer. This self-paced course is designed for beginners with no prior networking knowledge. It teaches basic operations of the tool with multiple hands-on activities helping you to visualize a network using everyday examples, including Internet of Things (IoT). This Introductory course is extremely helpful for anyone who plans to take one of the Networking Academy courses which utilizes the powerful simulation tool. No prerequisites required!
You'll Learn These Core Skills:
Simulate data interactions traveling through a network.
Visualize the network in both logical and physical modes.
Apply skills through practice, using labs and Cisco Packet Tracer activities.
Develop critical thinking and problem-solving skills.